In this tutorial, we will be choosing "Studio & Mobile Tans". If you're following along, just choose the service that you want.
1. Hover your mouse pointer over "Services," then click on the service that you would like to book.
2. Scroll down to view the prices and types of reservations.

3. Click on the type of reservation you would like to book (or click the general scheduling page to view all types of reservations) and a new tab will open.
If you want to schedule an "after-hours" reservation, you need to choose that category in order to see the available hours.

---

Filling out the form
In this section of the tutorial, we will go through every section of the form.
---

Section #1 - Choose Reservation.
You can add additional services to your reservation, which is optional.
Choose the time slot you would like to set your reservation. You can click "MORE TIMES" if you need more time slots.
Section #2 - Your Information
Type your Name, Phone number, and Email address.
For Intake Questions, it will ask if you've ever received a spray tan before, your tanning experience, your expectations, the reason why you're tanning, your birthdate, the venue (if there is one), the information about your glam team and photographer, should you want to share it, and if you are pregnant. Don't forget to fill out the *required questions.
For Sunburn, it is imperative that you answer it honestly, as it can take months for our skin to repair itself after a burn. Rest assured that this is a safe place, and you can disclose all the details necessary, including discreet photos. Don't forget to fill out the *required questions.
On "Special Occasion, Wedding, Prom, Formal, etc.," upload the front and back photos of your dress or outfit.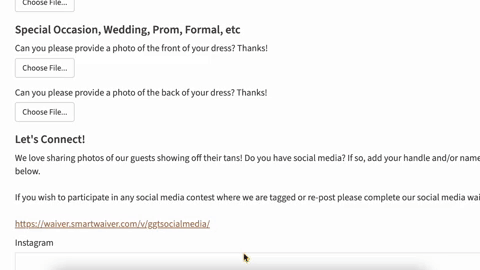 On "Let's Connect!", we will ask you for your Facebook and Instagram accounts and ask you to sign the Social Media Consent Form should you want to share your photos with us and allow us to share them on our social media accounts and website.
When you click on the Social Media Consent Form, it will open a new tab, so you can go back to the previous tab to continue your reservation.
Make sure to provide the correct email address, as you will receive an email wherein it will ask you to confirm your email address.
Do not forget to fill out the Guest Registration Waiver. This waiver must be signed annually prior to the spray tan reservation.
You must return to the scheduling page to complete the reservation.
On the Newsletter/Glow Club and Referral, just check or answer if it applies to you.
Read the Cancellation Policy, agree to the terms, then proceed with the payment. You can either click "Pay Now" to pay for the reservation in advance or click "Reserve without Paying" but you still need to input valid credit or debit card information.
Section #3 - Confirmation
Once you confirm (you don't have to pre-pay), it will show you the type of reservation, the date and time of your reservation, the address of the email to which the confirmation is sent, and an option to add the reservation to your iCal/Outlook or Google Calendar.
---
If you have questions, don't hesitate to email me at candice@gottagettatan.com and I'd be happy to assist!